Product Description
The all-in-one labeling solution
NiceLabel Desktop Suite includes all of the most powerful labeling tools you will ever need. Designer Pro, NiceForm and Automation Easy are bundled together to deliver best value for money.
Every label design feature you will ever need
NiceLabel Designer Pro includes all the layout and data tools you need to design labels, enabling easy compliance with industry standards. Unicode support enables you to design international labels with multiple languages on one label.
Includes the latest pre-designed compliance label templates
Supports over 70 barcode types (linear, 2D & composite)
Advanced layout - rich text, curved text, paragraphs, line styles, grouping, shape fill, relative positioning, etc
Advanced RFID tag support
Learn more about professional barcode label designer.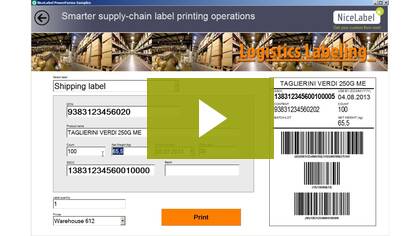 Simplify your label printing process
NiceForm allows you to create error-free printing applications.
It allows you to easily adapt the printing interface to your business and user needs. The tailored solution minimizes manual data entry, eliminates human error and increases data accuracy.
Learn how to create robust barcode label printing applications without any programming.
Automation Easy automates your label printing
NiceLabel Automation Easy is the fastest way to deploy accurate and consistent label printing without costly custom development.
Simply connect your label printers to your existing software applications and hardware devices. No customization needed.
NiceLabel Desktop Suite includes:
Essential modules
NiceLabel Pro
NiceForm
NicePrint
Automation Builder
Automation Manager
Utilities
QuickPrint
NiceData
NiceMemMaster
NicePrintQueue
Smart keyboard downloader
Detailed Specs
MFG Part Number
NLDSTE
Product Type
Software
PDF-1
None
PDF-2
None
PDF-3
None
PDF-4
None
Downloads
Reviews/Questions
The NiceLabel NLDSTE is also known as
NIC
-NLDSTE
or NLDSTE